The Wonderful World Of Gallo!
I was recently at a tasting for work, yes it's terribly taxing, and was surprised to find out that all of the wines at the tasting were under the long reaching umbrella of Gallo's portfolio (we're talking about the big colorful beach umbrellas not the little one's for a rainy day). Many people don't realize how many popular wines on the grocery store shelves are owned or partly owned, by the company that is the E & J Gallo Winery. Please don't take this the wrong way, I am not bringing this out into the open to make my readers see how vast and controlling this company is in the wine industry. But I won't hide the fact that I did feel rather duped in thinking that some of these wines were from independent family owened wineries. I wonder if you knew that all the wines below are in Gallo's portfolio of wines? These are only some of the mid shelf wines.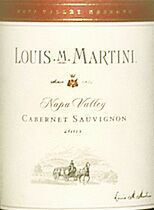 So now that it's all out in the open, I just want to commend Gallo for making so many great wines, many of which are much more than just quaffable. Below are a couple of reviews from wines that I got to take home after the tasting and have opened in the past couple of nights.

Rancho Zabaco, Sonoma Heritage Vines Zinfandel, 2003

This was one of my favorites at the tasting. It retails for around $15.00 in Georgia and at that price its still a good valued Zin. One thing that Gallo can do well is blend. 82% of this wine is Zin from all over Sonoma County, 11% Petite Sirah (a common companion to Zin) from Sonoma and Paso Robles, 3% Tempranillo from Paso Robles, and 2% Syrah from Sonoma. All of these wines have come together from across California to make a blend that is very welcoming to the palate with soft acidity, medium alcohol for a Zin (14.2%), and a nice thick body that covers the whole palate and slides all the way down your throat in a long finish as if it's saying "C'mon, you know you want more". All of these things make this wine great with food or just to have on its own while typing up a post for your blog. Now, mind you, I have had better Zins and there are things that are lacking in this one. This wine doesn't shout out to me "I am Zinfandel from California in all of my splendor". It's just a good Zin. If given to me blind, I may have a hard time guessing what wine it is. But that is why Gallo excels in this price range. They make wines that are fantastic value and always pleasing to almost any consumer.
In this wine you will find a soft tannin core with strong aromas of cherry and strawberry KoolAid, with hints of tobacco. The acidity is there but soft on the palate, it's not puckering. There is none of the hot spicy heat that you find on a lot of California Zins with their 15% and higher alcohol that make them difficult to pair with almost any entree. A good, solid, clean, immensely enjoyable wine. I give it an A-.

Da Vinci 2004 Chianti

This wine retails for around $10.00, a great price for a decent Chianti. It's of course, another Gallo wine and a great table wine. You may think that Gallo is just trying to make a buck off of the upcoming movie, "The DaVinci Code" but they actually purchased this winery well before the book became popular and the winery has been in existence far longer. DaVinci has a few different tiers in their portfolio, this one is the lowest. Now, does it taste like a normal Chianti? No not really. Does it please the palate and make you think "wow, what a great wine for $10, yes. The answer to that question is always yes when we're talking about a Gallo product. Chianti usually has a dusty quality that some people dislike. You will not find that in this wine (Chianti Snobs Need Not Apply/Drink). This wine is made to distribute in vast quantities for the American consumer. For that reason it is an old world wine with a new world flare. It is made from the same grapes as other Chianti,(Sangiovese, with some Cab and Merlot) but it is much riper in style, left on the vine longer, and made to drink now. You will find lots of fruit forward characters, strawberry and plum come to mind with a decent structure and not a whole lot of tannin. It is true to cheaper Italian wine style in that it is very food friendly with sharp acidity and a somewhat lower alcohol at 13%. Great with tomato based sauces.
I give it a B.